Teaming up with Fujitsu to support Cystic Fibrosis in Maitland
You've done it again Mr Hooker! Together with Fujitsu, we were proud to support LJ Hooker Maitland again this year for their annual Cystic Fibrosis fundraiser. They put on a great event for the community on June 1st, 2018 and have raised an impressive amount to give to Cystic Fibrosis Australia. Cystic Fibrosis (CF) primarily affects the lungs and digestive system because of a malfunction in the exocrine system that's responsible for producing saliva, sweat, tears and mucus. There is currently no cure. Every dollar helps to improve clinical practice and patient outcomes through quality improvement programs and research.
Thanks to LJ Hooker Maitland for letting us be a part of the event again this year.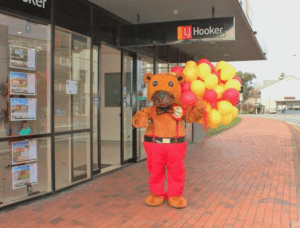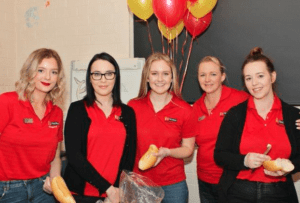 Hinton Hornets #15 is kind of a big deal!
Proud Sponsors of the Thornton Junior Football Club 2018/19
We love supporting local sporting clubs and check out how happy these little guys & girls are in their Valley Air Conditioning kit! Team work is an important value we hold here at Valley Air Conditioning and it is awesome these kids get to learn it from an early age. We are proud to sponsor the U/6 and U/7 teams for the 2018/19 season. Good luck to all of the players and most of all HAVE FUN!!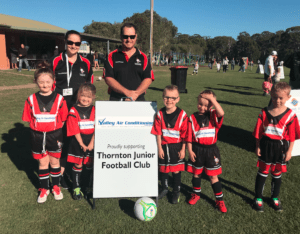 Bronze Sponsor for Hunter Womens Cycling
We Are Proud to Announce that we are a Bronze Sponsor for Hunter Womens Cycling. Our Office Manager Kylie loves to ride and is a part of this great group of women cyclists.
HWC provides an environment for Hunter women to race, social ride and develop their skills with other like-minded women in all areas of cycling.
Check out their website http://hunterwomenscycling.com.au/

CEO Sleep Out 2018
Supporting the CEO Sleep out and Partnering with Fujitsu to raise funds and awareness of Homelessness in our Community.
Join us in donating to this cause by clicking below https://www.ceosleepout.org.au/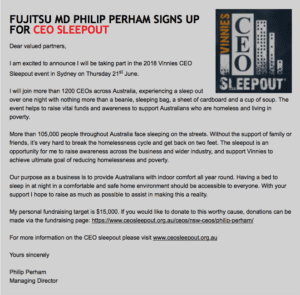 Teaming up with NAB to Raise Money for Camp Quality

NAB Business NSW/ACT has raised over $3.6 million dollars for Camp Quality and Valley Air Conditioning is happy to support this amazing charity, supporting families going through such a tough battle.
Cancer places enormous physical, emotional and financial stress on families. It is the second largest cause of mortality in children aged 0-14 years old, behind injuries and poisoning, and 1 in 2 Australian adults will be diagnosed with some form of cancer by the age of 85.
The vital funds raised will allow Camp Quality to continue running innovative programs and services which develop life skills and strengthen wellbeing in children 0-13 impacted by cancer, whether their own diagnosis, or the diagnosis of someone they love (parent, carer or sibling).
Camp Quality's programs are designed to meet the specific wellbeing needs of children growing up with cancer, and their families, free of charge. Camp Quality is there for them and their families from the first experience of cancer, through every stage, from treatment to remission and beyond. Their support continues in the heartbreaking case of bereavement.
The funds raised in this year's Calls for a Cause will contribute towards Junior Camps, Camp Quality's Primary School Education Program, as well as supporting newly diagnosed families in NSW and the ACT.
Blacksmith 2 Breakwall – 2017
We are proud to sponsor for the second year running the Blacksmith 2 Breakwall walk to raise money the Newcastle Surf Club and Hunter Branch Surf Clubs, Ronald McDonald House and the Westpac Rescue Helicopter.
It is a "Walk to Save Lives" – 26.9kms along the beaches and through the Awabakal Nature Reserve then back along the bathers way to finish at Nobbys breakwall. We had a number of staff participate in this years walk.
Jeans for Genes Day

Each year, Australians unite by wearing their favourite jeans and outdoing each other with crazy denim outfits, and donating money or purchasing merchandise, to support genetic research.
Every dollar raised on the day helps scientists at Children's Medical Research Institute discover treatments and cures, to give every child the opportunity to live a long and healthy life.
We are helping by donating $200 through the PLH Accountants Fundraising Page
The Big Freeze – Raising Money for the MND Foundation
Leah Jay are proud supporters of the Newcastle Big Freeze, established by the Cure for MND Foundation. Valley Air Conditioning was more then happy to make a Donation to support Leah Jay as well as this great fundraiser.
The Big Freeze sees local personalities taking a giant slide into a pool of ice water – all in the name of raising funds and awareness to #FreezeMND.
In memory of Leah's son, Elliot, Leah herself will be undertaking the Big Freeze on June 17. Elliot was just nineteen when he passed away in April 2008, following a twelve-month battle with MND.
This initiative is driven by a local committee partnering with the Newcastle City Blues (AFL) and Cure for MND. Newcastle City, is the club Elliot played for in the under-18s premiership team of 2006.
The more people that know about the Newcastle Big Freeze, the greater the impact.